If you are a new seller and lack PayPal's trust, you might find PayPal holding money from you for 21 days. And this usually happens if there is any problem or concern with the PayPal orders.
Sometimes a customer may file and win a dispute even if you haven't done anything wrong. And, the worst part is, you will not be able to invest in your business because of your profits being locked up by PayPal.
So the question is:
How to avoid having your PayPal payment on hold?
1. By Provide Tracking Information To PayPal.
By adding tracking information to PayPal, customers will be able to access a tracking number that they can use to track the status of their shipment.
Even if PayPal is unable to provide the shipping status, customers can track the tracking number on the courier's website and then find out everything they need to know.
So what is PayPal tracking information?
PayPal tracking information exists in the form of proof of shipment and/or proof of delivery.
In simple terms, you will have to find and specify a list of details about your PayPal order. And the information has to be accurate or else PayPal will not be able to correctly verify your order with the courier.
Adding PayPal tracking information may not be easy for each and every order.
It can become a problem when your business is so large that you now have to correctly provide tracking information for hundreds of orders a day.
That is why it is recommended to use a Shopify app such as Proveway that automatically does all the hard work for you.
Proveway will automatically add tracking info to PayPal so that most of your transactions can be eligible for Seller Protection.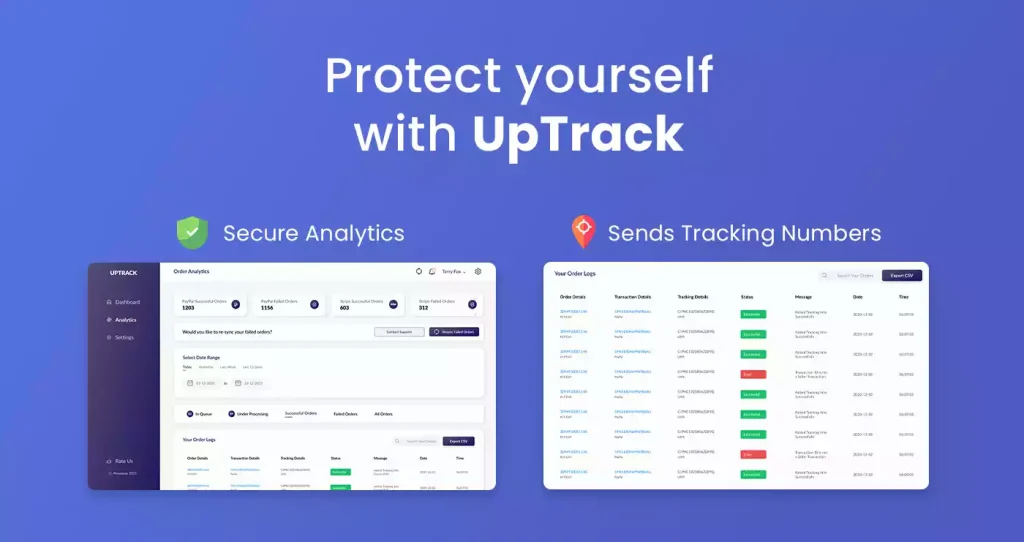 That's right. you will never have to worry about PayPal holding money.
The best part is that Proveway saves time by sending and uploading all your tracking numbers in one single click.
And don't worry about scaling your store as Proveway can sync up to unlimited trackings a month at a very affordable rate.
But that's not all, Proveway automatically syncs tracking information to payment gateways for all your fulfilled orders after every 20 minutes.
Since Proveway helps in building trust with payment gateways, transactions will be protected by Seller Protection.
By automating the entire process, Proveway enables its users to spend their time on other important areas.
Here's what people say about Proveway:
"I was quite scared with PayPal holds and disputes when I settled up my dropshipping stores, But Proveway helped me sending the tracking numbers accurately to the PayPal"

-Grind Never Sleeps
"This app works well and makes PayPal Very happy. When my order is delivered this app allows me to access my PayPal funds faster and genuinely limits my PayPal Holds. I would recommend this app on my personal experience. Great Job!!!"

-My Bump Maternity
"Proveway really does the job for me, no more disputes because of wrong trackings. Used to add in all the trackings myself but now that is on autopilot"

-Mytrendy.se
2. Print USPS or UPS shipping label
From your PayPal account, you should be able to print a USPS/UPS label. By completing this process, PayPal will automatically update your tracking information and confirm the delivery.
And hence, PayPal will release the hold (of your money) a day after confirming the shipment with your courier.
3. Update the order status for intangible products and other services
For the items which do not need the tracking number like digital services or products, you have to update the order status of those items. PayPal will then release your funds in seven days.
How to unlock Seller Protection for each order so that you never have to worry about PayPal holding money?
All your orders will be protected by Seller Protection if you can send the correct "proof of shipment" or "proof of delivery" for each transaction by syncing your tracking information with PayPal.
What is proof of shipment? Here's what PayPal says:
"Proof of Shipment is online or physical documentation from a shipping company that includes the following:
The date the item was shipped.
The recipient's address, showing at least the city and state, or city and country, or zip/postal code (or international equivalent).
The address information on your shipping receipt must match the address on the Transaction Details page."
What is proof of delivery? Here's what you will need:
The delivery date of the item that is to be shipped. The delivery status is required as well.
Item recipient's address (city, state, zip code, etc) should match the shipping address mentioned on the Transaction Details page.
The signature confirmation will be required when the amount of the item (including shipping and taxes) exceeds $750.
If the item is intangible, you will have to provide compelling evidence that shows the item was delivered or the order was marked fulfilled.
After sending PayPal the correct tracking information and inserting a tracking number for your order, your customers will finally be able to track the shipment.
In this way, the customer can rest assured knowing that the product is on its way and there is not much room for any mistake for PayPal holding funds.
Why does PayPal put payments on hold?
Your PayPal payments are for risky products: According to PayPal these types of products are highly susceptible to being fake, damaged, or fraudulent. So there may be a payment hold if you are selling tickets, consumer electronics, computers, gift cards, or travel packages. (If you're a dropshipper, read this article here)
Lots of your customers are filing for chargebacks, disputes, and refunds: This may cause PayPal to place holds on your account more often.
You are selling products on PayPal for the first time: And because of that PayPal is being extra cautious.
Your business has not made any sales for a while: Or there is a sudden increase in the number of sales you are generating.
How can you stop PayPal from holding money in the future?
The most important thing you can do is to cooperate with PayPal whenever they send you an email, and these email messages usually indicate that something is going on with your PayPal balance. By reading what PayPal says you will learn what caused the hold and how you can prevent it in the future.
Post clear descriptions and images of the product you are selling
ALWAYS send PayPal tracking information for each of your orders. If you don't have the time and expertise to do this all day, use a Shopify app such as

Proveway

that does this for you on autopilot.
Have a well-written return policy so that your customers can know exactly what to expect when buying a product from you.
Read in detail about how to stop PayPal from holding funds by avoiding these 5 mistakes.
Conclusion
By following these guidelines, you will surely be able to access your funds more easily.
Just remember to follow PayPal's instructions and to always provide tracking information to PayPal so that all your orders are covered by PayPal Seller Protection.
Now we would like to hear your thoughts: How often do you find PayPal holding money? Why does that usually happen? Be sure to let us know by leaving a comment down below.