PayPal limitations can affect businesses new and old regardless of suspicious activity.
As a PayPal seller, it would be quite problematic if you are suddenly unable to send, withdraw, or receive any money.
These limitations are not as uncommon as you think and they will certainly hurt your business.
However, these limitations can effectively be removed using all the tips and tricks mentioned in this post.
How to stop PayPal Limitations?
1. Verify your account using your exact information
A lot of times, accounts have been limited as a result of insufficient/incorrect information being submitted.
Although you might feel as if you have submitted everything, there could be a few flaws.
For example, PayPal could find out that your information does not match your banking information.
Another important tip is to never use your family members' details instead of your own.
Here's a list of what you should provide:
Verified credit card and bank account details
Passport or passport card
Driver's license (front and back)
State or Government Issue ID (front and back)
Utility bills
Bank statements to verify address
2. Avoid selling items that require pre-approval from PayPal
Selling high-risk products such as cryptocurrency, jewels, prescription medicine, alcohol, and tobacco will require pre-approval from PayPal before you can sell them to customers.
Such products may not be legal in the state/country it is being sold to.
Furthermore, it can also be problematic if you receive donations without PayPal being informed.
To learn about all the items that require pre-approval, be sure to look at this post.
But in case you have violated any of these rules, it is important to file a report to PayPal right away detailing everything that was done.
3. Remember the key terms and conditions listed in PayPal's Privacy Policy
There are numerous cases where lawsuits were filed against PayPal sellers for illegally selling products.
It is best to not sell items that can harm the customer such as weapons, narcotics, prescription drugs, and stolen goods.
Such items directly go against PayPal's policy.
In addition to the above, sellers should never sell items that violate trademark/copyright agreements.
Another costly mistake that may not be of your own is selling products that are low quality or fake.
Although this should never happen if you are the manufacturer of the sold product, it can happen if you rely on third-party providers who live overseas.
4. Avoid making any suspicious moves without informing PayPal beforehand.
For example, one should have a valid reason for creating several PayPal accounts and using (the same documents used on the primary account) identification documents to verify it.
Repeatedly creating new accounts and using a different IP address each time is a quick way to get in trouble with PayPal.
Suddenly receiving a massive increase in sales out of nowhere can also raise suspicion.
This is common before holidays and special events.
Pre-informing PayPal about such occurrences is vital.
E-commerce businesses may start selling new products (that have not been sold before) that have not yet been verified by PayPal.
In such cases, PayPal will limit the account until it is done reviewing the new item.
Another important thing to remember is that frequently traveling outside the country can also raise suspicion.
Especially because PayPal can detect the IP address changing frequently which could equate to an account hack.
To avoid limitations being placed in such cases, PayPal requires sellers to create a travel profile where you will have to provide information about your trip, including the dates and location of travel.
You'll also be prompted to provide a phone number and email address PayPal can use to contact you while you're traveling if necessary.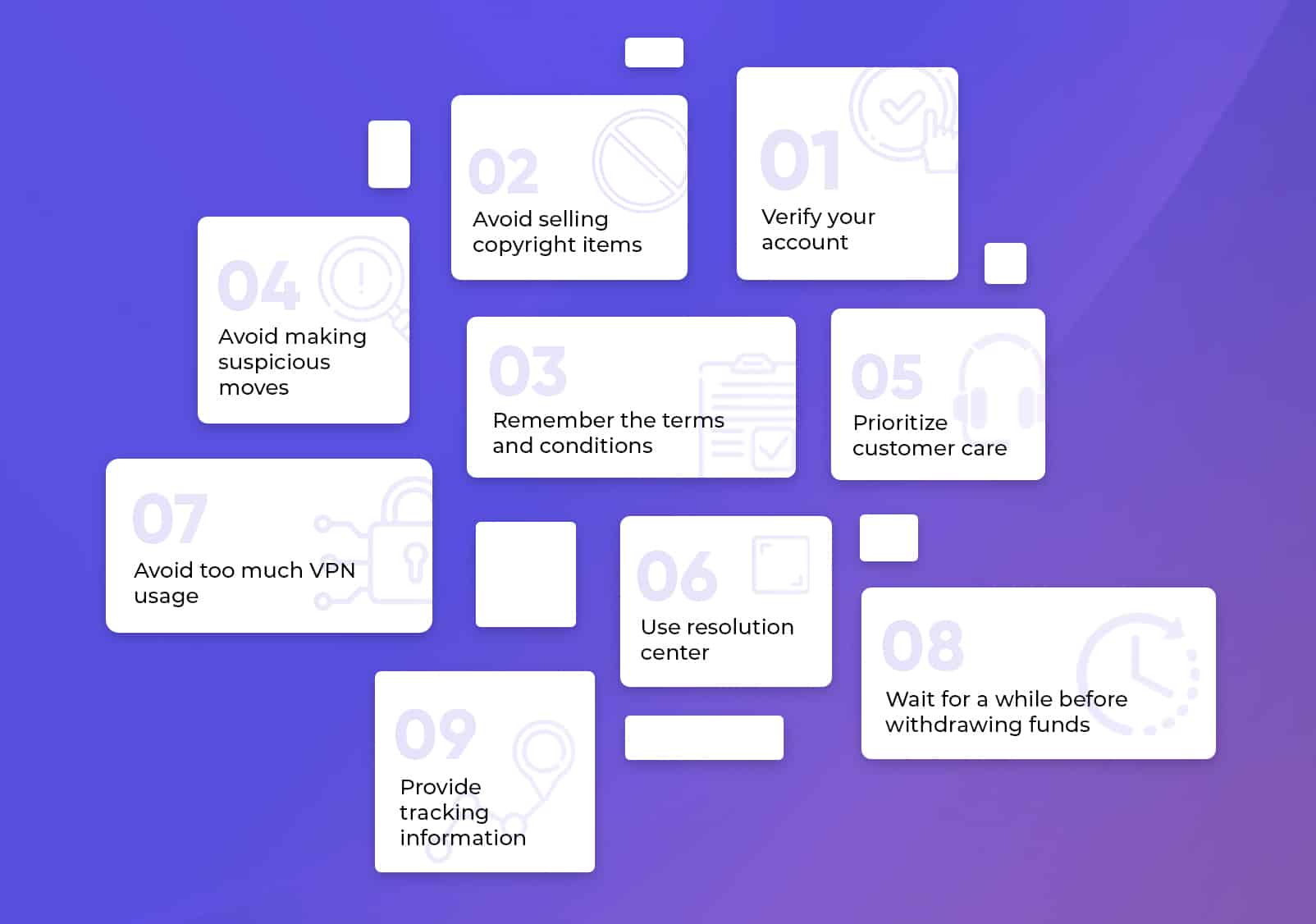 5. Prioritize customer care over everything.
Even if you follow all the rules in this post, you will still find your account being limited if your customers repeatedly file claims and chargeback requests.
Giving your customers an intuitive gateway to excellent customer service can relieve stress both for the seller and the customer at the same time.
This gateway can be a simple help request box made available on the seller's website.
Solving your customer's problems before they file a claim or a chargeback request is a surefire way to have a successful PayPal business.
6. Understand how to use the resolution center
The resolution center is the only way to fight back account limitations.
Sellers have to be very careful with how they interact with PayPal on this page.
In case of a limitation, PayPal will use the resolution center to request further information.
7. Avoid too much VPN usage as it changes your IP address
Changing your IP address Using VPNs, proxies, or Tor browser tabs to open your PayPal account will certainly raise suspicions.
PayPal keeps track of the IP addresses used by each seller.
The address used to create the account will be stored as the primary IP address in PayPal's database.
Hiding your identity using a VPN goes against PayPal's goals of transparency.
8. Wait for a while before withdrawing the funds made from successful sales.
It is usually a good idea to not immediately withdraw money after bagging your first sale or just a very expensive one in general.
In addition, businesses should not repetitively use the 'friends and family' option to receive/send large amounts of money.
This is because PayPal needs to see a commercial purpose for such transactions.
A large percentage of PayPal scams occur in the first month of a business being started. That is why sellers should wait for a month or so before withdrawing money.
9. Provide tracking information for each transaction to unlock Seller Protection (no more chargebacks, claims, payment holds)
The easiest way to avoid pesky chargebacks, claims, and payment holds is to have PayPal's Seller Protection unlocked for every single transaction made between you and your customer.
Thanks to Seller Protection, you will be compensated for every fulfilled order even if the customer has filed a dispute that you are unable to win.
Most of the time customers will file a dispute because the product received by them is slightly different from what it looked like on the product page.
Sometimes the chargeback could be related to a billing issue or an unauthorized transaction. However if you have seller protection turned on for your account, PayPal will still compensate you for the order especially if it was not your mistake.
So how do you get seller protection?
You will have to provide paypal tracking information (Proof of Shipment or Proof of Delivery) for every single transaction.
This process can be time-consuming and very complicated.
That's why a good alternative is to use a Shopify plugin that automatically sends tracking information to PayPal.
This is possible using Proveway – a Shopify Application that sends tracking information for every order on autopilot.
Proveway helps build trust with PayPal so that transactions will be protected by Seller Protection
The truth is PayPal cannot check and review the information submitted by thousands of sellers across the globe.
That is why it uses PayPal AI which takes data points from sellers and uses them in the verification process.
Proveway sends these data points to PayPal without any mistakes so sellers can use their time in other areas.
Conclusion

PayPal limitations are scary if you are a first-time seller on PayPal.
But, there is no reason to worry if you use these tips and provide all the necessary information as soon as possible and help you to remove limitations on paypal account.
Now we turn it back to you:
Have you suffered from PayPal limitations before? If so, why?
Be sure to leave your thoughts in the comment section down belo